Preaching from the Gospel of Mark in Yambol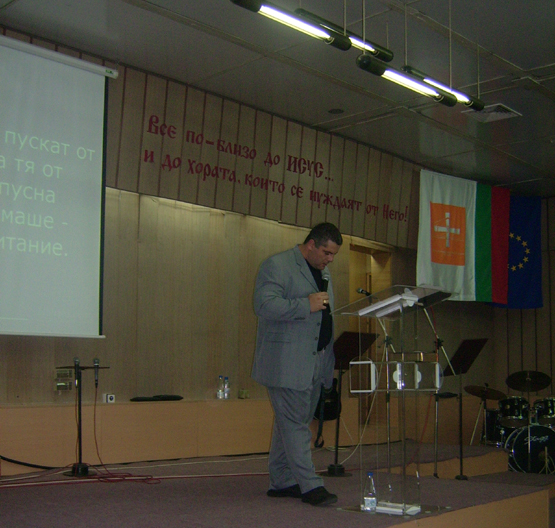 The pastor of the Pentecostal church in Yambol has invited us present a Bible study course on the Gospel of Mark. We have designed the course as a verse by verse exploration of the text, which takes under consideration various theological perspectives and practical applications.
Naturally, when dealing with the Synoptic Gospels, we touch on text criticism issues like the process of writing the Gospel, priority of Mark, authorship and purpose, Greek vocabulary and grammar and many more. It is a challenge to relate many of these issues to a congregation where most of the people have read only one Bible translation their whole lives.
Nevertheless, as we have trusted the Holy Spirit in the interpretation of the Gospel text, we have seen again how the Word of God is confirmed with miracles and wonders. These signs have surpassed simple healings, supplying of financial needs or family restoration and has proceeded into life transforming experiences expressed in salvation, sanctification, Spirit baptism and extraordinary illumination opening the spiritual eyes of many to receive the text in a practical experiential matter of which many have not been yet aware. We have literally seen how the Word, and not people, touches hurt hearts, heals sorrowed souls and transformers lives forever. And this is the miracle of preaching the Good News of God to the world. For if we want revival to go on, the Gospel must be preached …