Pentecostalism in Bulgaria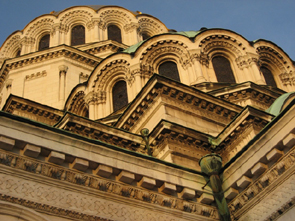 By Kathryn Donev, M.S.
As the first Slavic nation to adopt Christianity, Bulgaria began Protestant work on the Balkan Peninsula in the 1800s when British and American missionaries were allowed to enter the Ottoman Empire. In 1868, the first Bulgarian Protestant Church was founded in the town of Bansko. By the time Bulgaria was liberated in 1878 and became an independent Balkan state, Protestantism was well established in the Bulgarian culture. In 1920, Ukrainian immigrants Zaplishny and Voronaev preached in the Congregational church at the Black Sea port city of Bourgas, where several were baptized with the Holy Spirit. This event marked the beginning of Pentecostalism in Bulgaria.
During the Communist Regime, the Bulgarian Church of God remained underground and was severely persecuted by the authorities. In 1949, Communist authorities tried and convicted fifteen protestant Bulgarian leaders on false charges of treason and espionage. Due to this persecution there arose division among Bulgarian Pentecostals that was prevalent and continued throughout the Communist Regime.
Archives report that in 1974, the Bulgarian Church of God had a mere 600 members nationwide. This number grew to 2,000 members with congregations in 25 cities by 1981 and doubled in the following five years when the denomination became affiliated with the Church of God in 1986 (Cleveland, TN).
Fifteen years after the fall of the Berlin Wall, the Bulgarian Protestant movement claims over 100,000 members. This number is almost ten times higher than a 1975 German study that presented proof of approximately 13,000 "known" Protestants in Bulgaria. In the 1980s, this number grew to 55,000, mainly because this was the period when many Western missionaries were able to visit Bulgaria and gather information about the underground churches outlawed by the Communist Regime.
Although international reports confirmed the existence of over 100,000 Protestants in Bulgaria as early as 1994, the Bulgarian National Statistical Institute counted only 42,000 Protestant believers in Bulgaria for the 2002-2003 National Census. This number was refuted recently by Dr. Stephen Penov, a professor at the Sofia University and a member of the Bulgarian Academy of Science who has served as a Parliament expert on human rights and faith confessions. Dr. Penov stated that the members of classical Protestant denominations in Bulgarian exceeded 100,000, with over 60,000 identified as classical Protestants and a membership in the new Protestant denominations of approximately 50,000. During the past fifteen years, Bulgaria has experienced an ongoing Pentecostal revival. Therefore, it is no surprise that over ninety percent of Bulgarian Protestants are Pentecostal or claim Pentecostal experience.